Websites
Ones I've designed
As mentioned on the home page, I now have three websites up and running. Here you can find out more about each site, namely:
There is also, below, information on some principles of website design. These 'principles' are in no way exhaustive, and are mostly just musings on how I design, some acknowledgements, that kind of thing. That part is a little technical.

EAPFoundation.com is my main website, inasmuch as it has the most extensive content, has the most visitors, and is the one I spend most time on developing and maintaining. It is also the one which relates directly to my work as an EAP teacher and academic manager. It is the second site I created, after this one, and in the initial stages of development I saved time by using this website as a starting point, copying across styling from the Cascading Style Sheets. As a result, it bears more than a passing resemblance to this site, for example the similar colouring and navigation bar at the top. There is now washback, as there are tricks I've learnt while designing the EAPFoundation.com site which I've brought to this one, such as the Smoothscroll links on pages. Below is a screenshot of the website's home page, plus a description of some of the main features.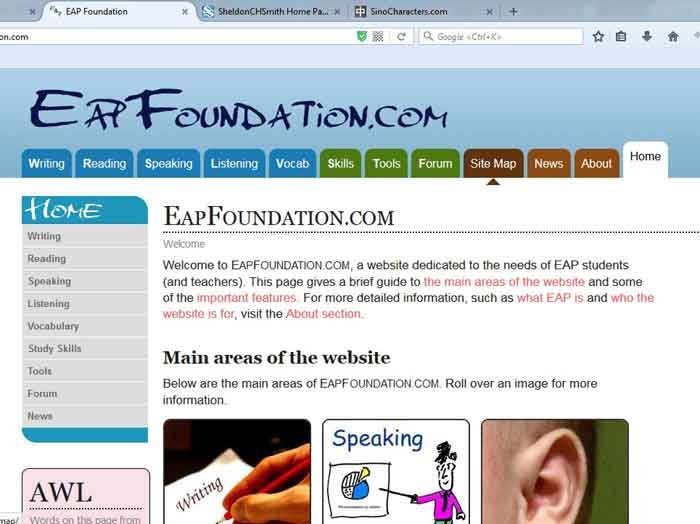 Specifically designed for students of EAP (English for Academic Purposes), especially those on foundation or pre-sessional courses
Also useful for EAP teachers - lots of resources!
Makes use of the AWL (Academic Word List) with two highly visual AWL highlighters (a standard one and one in tag cloud format), as well as the 'AWL widget' on every page
Lots of exercises and activities to accompany the content
Targets all four skills (Writing, Reading, Speaking, Listening) as well as Vocabulary
Has a Study Skills area to improve skills such as reflection, understanding learning styles, and time management
Designed with different learning styles in mind, with lots of images for visual learners and podcasts for auditory learners
Navigation bar (top) and navigation menus (left side) mean it is extremely easy to get around the site
Search function on each page so content can be found quickly
Fully mobile friendly, so you can access it on your phone
Has a Forum section where students and teachers can post questions for others to answer
Information on and help with TOEFL and IELTS, the two most common tests of EAP

My website SinoCharacters.com is devoted to the study of Chinese, specifically reading and writing Chinese characters (hence the name, Sino meaning Chinese, plus Characters). The writing part of that means via a computer or other device, rather than by hand, and if you know anything about pinyin and typing in Chinese you will understand that such writing just involves character recognition. I'm not Chinese, but my credentials are that I've lived in China since 2002 and have been studying Chinese since I arrived, so I know a thing or two about it. My wife is Chinese, which helps. The homepage, and some details of the site, are below.
Over 20,000 characters in the character database, including all of the most common characters
One page for each character, packed with information such as meaning, pronunciation, and common words using the character
Linked to the HSK (Hanyu Shuiping Kaoshi), the most standard test of Chinese
Real images (photos) of characters, taken from advertisements and street signs (another reason for the name SinoCharacters)
A full radical index, which includes all of the characters in the database
Characters linked by theme, such as seasons and zodiac animals, to make them easier to remember
As with all my sites, ease of navigation is a key element, so there is a simple navigation bar and a variety of ways to find characters, including a search function which works with Chinese as well as English
SheldonCHSmith.com
My site

My personal site, and where my adventures with website design began. Not too much to say here that you can't find elsewhere, so straight to the homepage shot (below) and some of the main points.
Simple design: only a few sections, simple navigation bar, simple menus, nothing too flashy
Showcase for three areas, namely Websites (this page!), Books and the Gallery section
More detailed content available in each section, e.g. extracts of all my novel in the Books section, and images from many different countries in the Gallery section
A little information about me in the About section, in case you are interested
Principles
To be added soon!